The work would not have been possible without the generosity of our funding partners: Georgia Public Library Service, BC Libraries Cooperative, South Carolina Library Evergreen Network, Bibliomation, and Central/Western Massachusetts Automated Resource Sharing.
Abstract
In February of 2013, Brad LaJeunesse, the president of Equinox Software, broached the idea of a community funded QA project
[http://georgialibraries.markmail.org/thread/i3x7nsd3eygau4nb]
to improve the state of Quality Assurance/Control/Management in Evergreen. It's a broad topic, but a large part of what we meant, and what most people took it to mean, is better automated software testing. However, like security, QA is ultimately a process, and no amount of automated testing will create better software without adoption by the actual people who create the software. This report, and associated git commits, are the result of several months worth of work on the process; the fruits of which we hope will be adopted by others in the community.
[http://blog.esilibrary.com/2013/06/19/quality-assurance/]

Evergreen has always had QA processes,
[http://evergreen-ils.org/dokuwiki/doku.php?id=contributing]
which have become more rigorous as the software and community matured. Currently, changes to the software by one developer require a "sign-off" by at least one other developer, and all the developers involved "test" the changes before they land in the master version of the software. Release managers have the power to include/exclude any given feature or bug fix in the version-branch of the software they maintain.
For the unit tests, and for the overall process of compiling/building Evergreen, we have a tool called Buildbot
[http://testing.evergreen-ils.org/buildbot/]
that will automatically build and test Evergreen after a set of changes have been committed to the master version of the software. Buildbot alerts all developers of any build failures or, in other words, whenever the build has become "broken".
There is a very good reason why unit tests are not more widely used by Evergreen developers. Evergreen was not designed in such a way that makes it easy to test behavior at the unit level. The "state" of Evergreen as a machine is spread across multiple mechanisms such as the database, the memcached service, configuration files, and memory allocated to specific processes. Actions within Evergreen can have "side-effects" that affect other actions, and sometimes communication between processes have to be "pinned" to each other and not shared with their peers. There's no generic way to create a mock environment with a limited scope for actions to affect at the micro-level.
Due to the above issues, the main tack this project ended up taking was to create mock environments on a larger scale and test Evergreen with its whole stack running. I've referred to these sort of tests as "live tests", but they can also be called integration tests, dynamic tests, feature tests, etc. They assume that they will be applied against a running instance of Evergreen. While not yet integrated into Buildbot, we do have a summary page and RSS feed for the results of these tests
[http://testing.evergreen-ils.org/~live/test.html]
. The hope is that the comparative ease with which these tests can be constructed over unit tests combined with a nightly automated run of such tests will spur the creation of more such tests, and that Evergreen will benefit from this.
The Bullet Points
Identify and assess the efficacy of existing resources and processes
Deploy examples of unit tests for each language and domain within Evergreen
Deploy examples of API tests for Evergreen's internal and published APIs
Demonstrate through initial implementation how continuous integration can provide regression testing
Document, with narrative, an example usability test and analysis, and the resolutions to problems discovered
Identify or create best examples of developer documentation for each language and domain within Evergreen
In-line documentation
Perl
Javascript
SQL
C
Technical reference documentation
Summary
Analyses of available UI testing automation tools, and, if possible, design of a UI Testing framework
Challenges
Snake Oil?
Specific Tools
AutoHotKey
Selenium
Sikuli
LDTP
Summary
Moving Forward
For the existing staff client, the community should invest in a test suite for non-functional aspects of the client, such as speed and memory consumption, to measure improvements and regressions with any attempts to bolster that platform. During the design process for any potential staff client replacement, consideration should be given to how that client might be tested. If a new client will be web-based, the community could apply the same or similar testing strategy to the OPAC.
Appendix A: Survey Results
Overview
Part of the QA project was an attempt to identify the areas of Evergreen that library staff use the most, as well as the areas that staff feel are problematic. With these two pieces of information, the Evergreen developers can best apply QA and other feature development processes to the most critical and the most problematic areas. Consortia and libraries using Evergreen can use the information to drive their own internal testing and development. As described below, the survey results show fairly strong consensus on the usability and the use of Evergreen.
Survey Results
Survey 1: Evergreen Use
This survey was started by 1,086 users and completed by 1,075 users for a retention percentage of 99%. The Circulation section was completed by 971 users. The Cataloging section was completed by 619 users. The Acquisitions section was completed by 395 users. The Admin section was completed by 464 users. The Serials section was completed by 344 users.
The fact that more users filled out the circulation and cataloging sections is unsurprising as that offset reflects the heavier concentration of front-line staff and catalogers in most libraries.
Circulation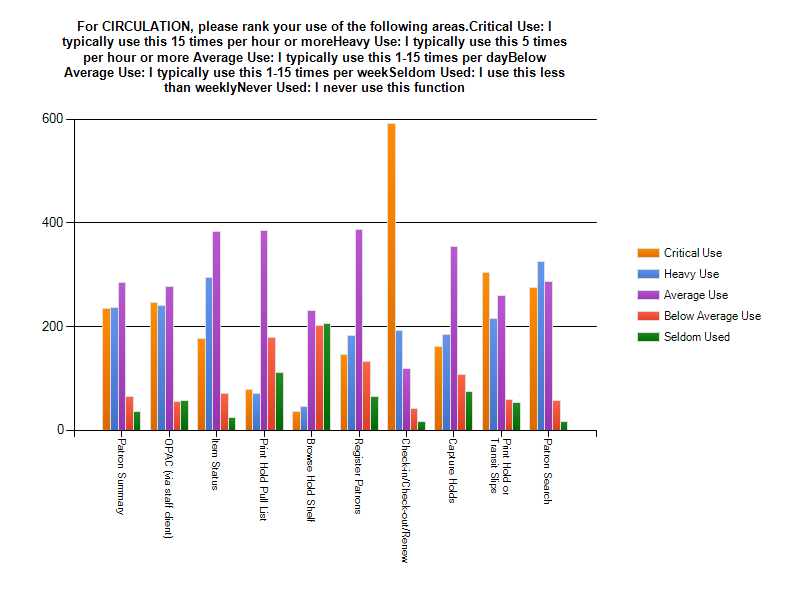 As you can see from the graphed results, users ranked check-in/check-out/renew as the most critical feature for their job. Patron Search and Print Hold/Transit Slips had the next highest use. The feature used the least was Browse Hold Shelf.
Cataloging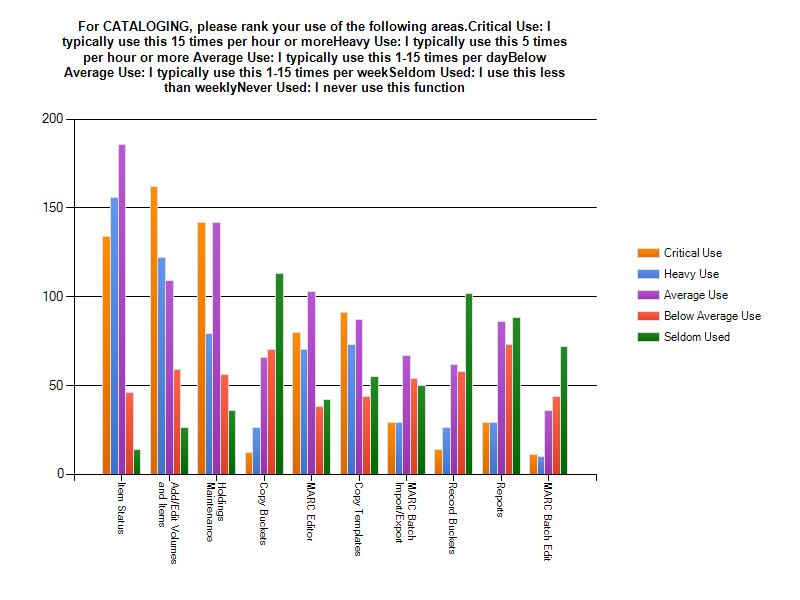 There is a clear indication here that the three most heavily used interfaces are Item Status, Add/Edit MARC Volumes and Items, and Holdings Maintenance. Buckets and Batch Editing are rarely used.
Acquisitions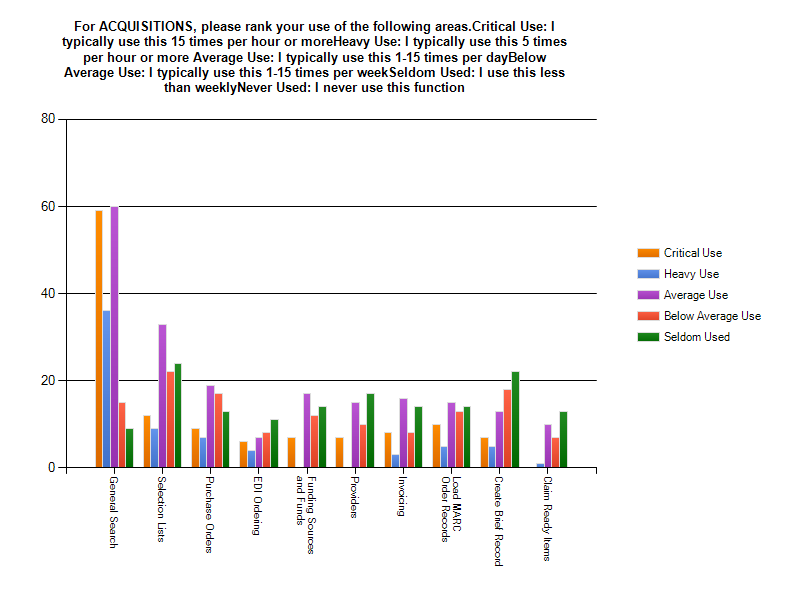 The most heavily used feature in Acquisitions is General Search. This is not surprising since General Search is how you access selection lists, invoices, purchase orders and line item detail in Acquisitions. After General Search, the use in Acquisitions is evenly spread out amongst the rest of the features, with Selection Lists having slightly higher use and Claim Ready Items having the least use.
Admin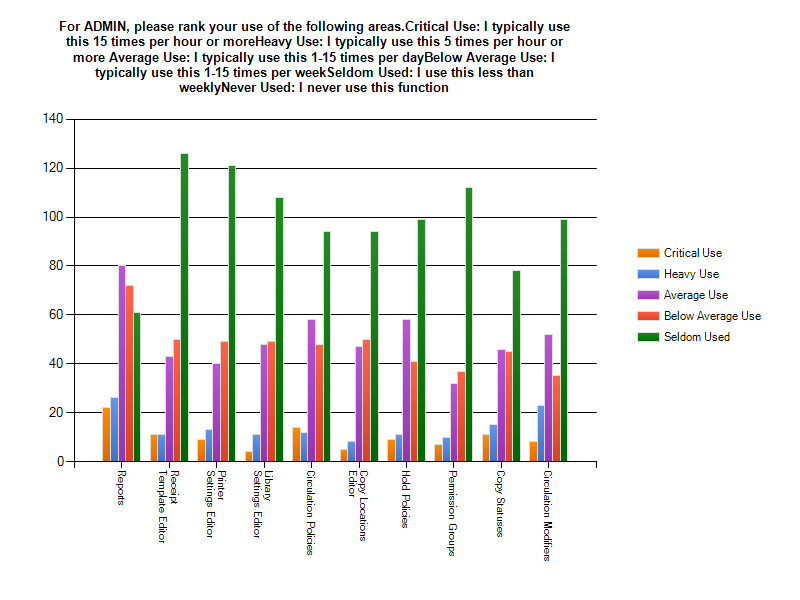 Reports is the most heavily used feature in the Admin category. Circ and Hold Policies, Circulation Modifiers, and Copy Statuses have significant use. It is worth noting here that many respondents left comments that Admin functions are "set it and forget it" and don't often need updating. While usage of these features isn't heavy, the features may still be critical.
Serials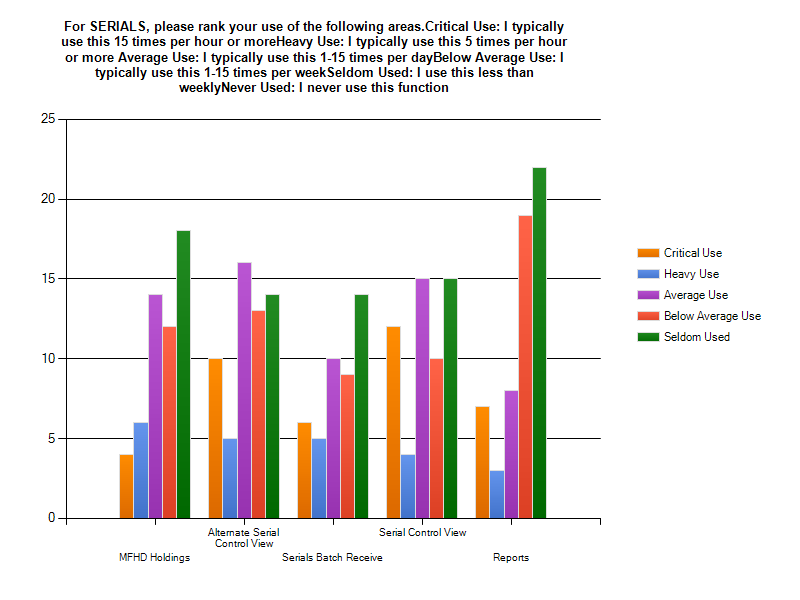 Unsurprisingly, Serials had the fewest responses. The new Serials module is a significant departure from the way Evergreen has handled serial data in the past. Very few institutions are currently using Serials. There isn't enough data to make a sound judgment on usage of individual interfaces in this category.
Survey 2: Evergreen Usability
This survey was started by 485 users and completed by 482 users for a retention percentage of 99.4%. The Circulation section was completed by 435 users. The Cataloging section was completed by 215 users. The Acquisitions section was completed by 56 users. The Admin section was completed by 108 users. The Serials section was completed by 46 users.
The fact that more users filled out the circulation and cataloging sections is unsurprising as that offset reflects the heavier concentration of front-line staff and catalogers in most libraries.
Circulation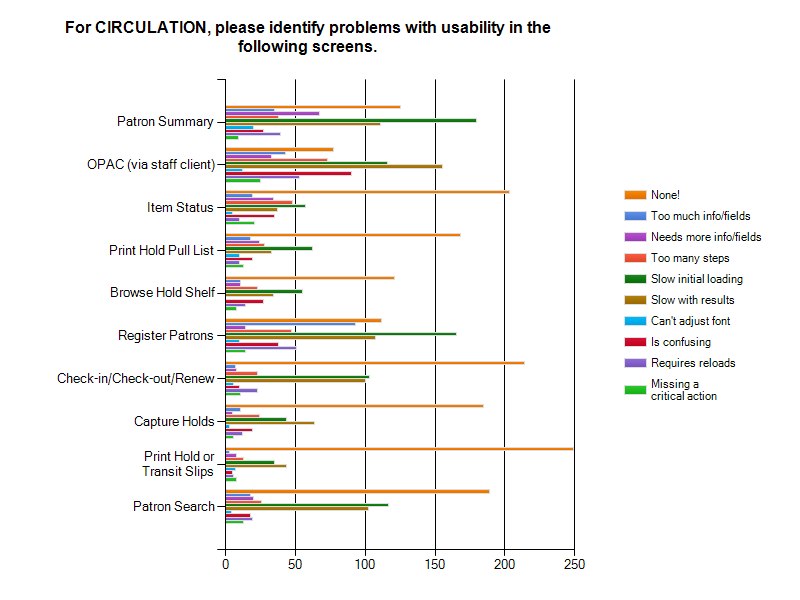 In all but three areas, the end users rated the interfaces as needing no improvement. The OPAC via the staff client was ranked as being slow in initial loading and slow with results. There were some ratings of "confusing" for the OPAC but the comments seem to indicate that those issues may be training, cataloging, or customization related. Patron Summary was also ranked as being slow in initial loading and slow with results. Lastly, respondents indicated that Register Patrons was slow in initial loading and slow with results. A number of people thought that there was too much information or that there were too many fields.
Cataloging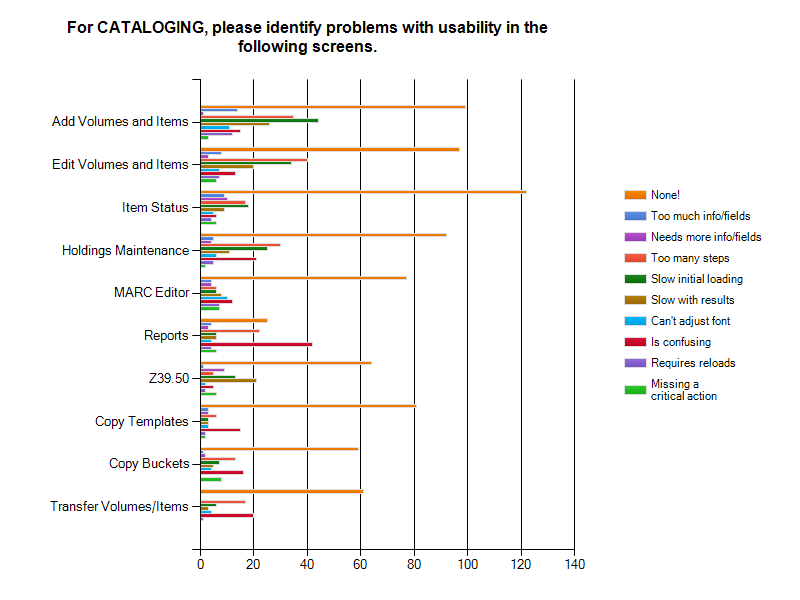 In Cataloging there was only one category that stood out as needing improvement: Reports. Add Volumes and Items, Edit Volumes and Items, and Holdings Maintenance were also marked as slow in initial loading and slow with results.
Acquisitions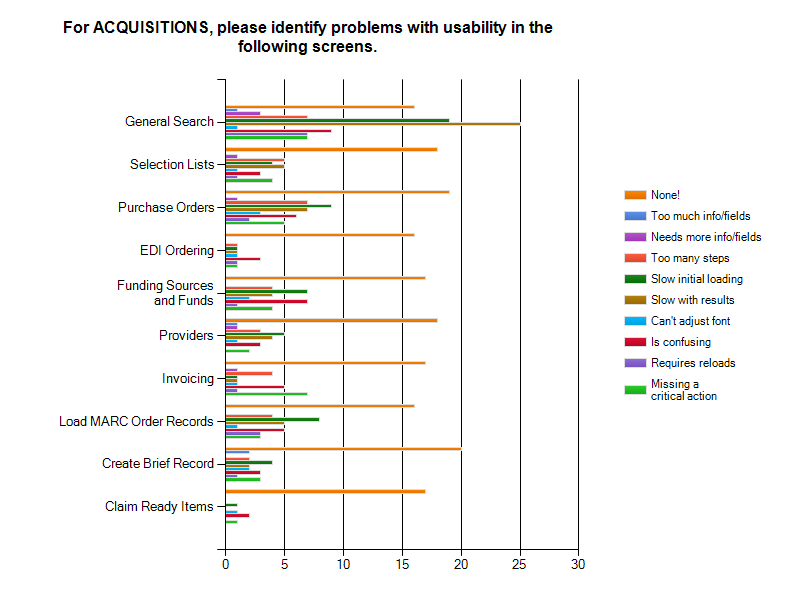 Acquisitions also had good overall ratings with the exception of General Search which was marked as slow in initial loading and slow with results. Notably, Funds and Funding Sources, General Search, and Purchase Orders were all marked as confusing. Since Acquisitions is the newest of Evergreen's modules, it should likely be the subject of further training and documentation efforts.
Admin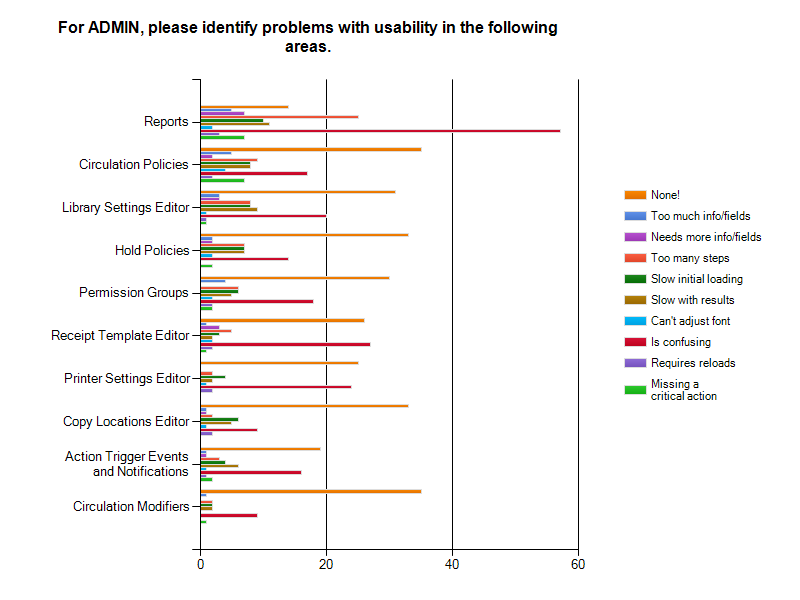 In Admin, Reports were found to be confusing by nearly everyone. In almost every category, the highest response was "None" (meaning no improvement needed) followed by "Is confusing". This outlines nicely the fact that there are people using these more advanced features who aren't having trouble, but that for many users there is a need for documentation, training, or more clarity in the interfaces.
Serials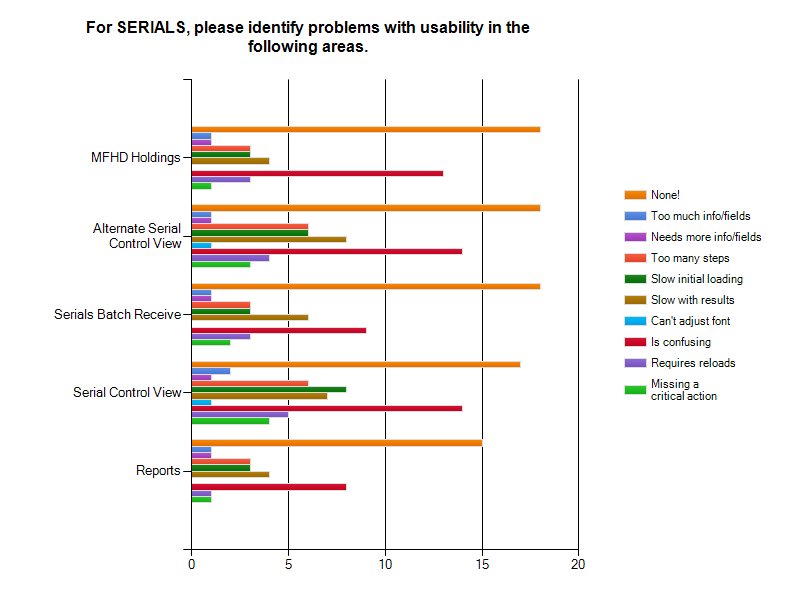 Again, unsurprisingly, serials had the fewest responses. There isn't enough data to draw strong conclusions, however it is safe to interpret the results as demonstrating the need for documentation, training, or more clarity in the interfaces.
Summary
The data that was collected points toward a general consensus that several Evergreen interfaces are slow to load and slow to render results. A small group also seems to feel that many interfaces (primarily in Serials and Reports) are confusing. There also seems to be a smaller group who believe that there is often too much information on some screens. In the comments, there were several statements regarding the need to click on too many tabs or use too many drop down menus. These comments point to both QA issues as well as development and usability issues that can and should be addressed.
For Circulation, it is important to note that Check-in/Check-out was the most heavily used interface with 61.3% of respondents saying it had critical use and 52.4% of the respondents said it was either slow in loading or rendering. In Cataloging, Add Volumes and Items and Edit Volumes and Items were two of the interfaces with heavy usage and were marked by 40.8% of the respondents as slow in loading and by 39.2% of the respondents as having too many steps. In Acquisitions, the responses indicated that some of the interfaces aren't clear, in particular Funds and Funding Sources (22.6%). General Search was also noted by 51% of users as slow with results. For Admin, the most reported issue was confusion, particularly for Reports (71.3%). Lastly, Serials respondents reported that the serials screens were confusing with MFHD Holdings being ranked as the most confusing component at 38.2%.
The above summary clearly marks where improvements can be made; however, there may be areas where improvements will be limited until Evergreen moves away from XULRunner. The XULRunner upgrade in Evergreen Release 2.3 did, regrettably and unforeseeably, introduce some memory leaks. These are complicating the relentless developer efforts to improve Evergreen's speed and stability. There are no quick fixes to the memory leak issues, but the developer community has made the important first step of supporting a move to a browser based staff client that doesn't depend on XULRunner. There does need to be a second, parallel effort to the new staff client development that will attempt to fix as many issues with the current staff client as possible and continue to create new features for the current staff client. It is not possible to say how long it will take to develop a new staff client, but a reasonable estimate would be between 24 and 48 months, depending on the development path.
I do think that is it important to note here that, with the exception of the Receipt Template Editor, Reports, Register Patrons, Patron Summary, and OPAC via the staff client, the majority of respondents said that there were no improvements to be made to any interface. I think that speaks to the stability and maturity of Evergreen, as well as the strength and aptitude of our community of developers. From the survey and comments, it is clear that despite the recent memory leak issues, Evergreen is still a product that users believe in and like using.
Next Steps
Suggestions moving forward would include ensuring that the most heavily used areas of Evergreen, as indicated by the survey results, receive significant QA treatment when new or changed features are introduced. This isn't to say that other areas don't deserve significant QA efforts, but the areas that are of critical use to end-users will cripple their workflow should a bug be introduced. This effort will require adoption of QA guidelines by the core developers as well as stronger effort at testing features and beta releases by the community's libraries. These efforts will require cooperation, open communication, and time.
The development of a new, browser based staff client is very obviously the next step for Evergreen. The next steps in this direction may include analysis of the findings of the performance assessment that OmniTI is performing for MassLNC. These findings will likely echo known issues (such as XULRunner) but will likely identify issues that are not currently exposed. Another possible step might include a project to create a few prototype staff client interfaces for a browser and then document speed and rendering issues that arise from utilizing the two or three different frameworks that are possible. This project should include the following as metrics: speed, standards compliance, ease of development, widespread support/use of the framework, support for internationalization, QA framework, and any potential challenges of the framework (security, printing, workstation registration, etc.). The sooner that a deliberate method is used to determine which frameworks are going to succeed, the sooner the new staff client can begin development.
Finally, there were many informative comments on the surveys. These comments included complaints, praises, requests for help, and development ideas. Many commenters asked for training on specific features - some even commenting that they weren't aware a feature existed. This is easily correctable through training and education. In some cases, the users may not be aware of a feature because their consortia's policy prohibits them from using it. These users should be made aware of the local policies and how those fit into the consortial goals. Those who aren't prohibited by policy from using a feature should receive ongoing training and be encouraged to go directly to the Evergreen web site to access new feature information and documentation. Some of the complaints were also training issues, for instance not knowing how to configure and save column data. Quality end user training should be a priority in every organization. There also seemed to be a general misunderstanding of the nature of Evergreen and the volunteer nature of all the contributors, including the developers. The three ways to combat this kind of end user misinformation regarding the software itself, as well as the nature of open source, are training, documentation, and communication.